Hans Nijssen, directeur van Gerco en Applicom:
'Together with Unica, we offer our customers fire-safe buildings'
When you mention the word fire safety, many people immediately think of 'active' solutions for fire detection and suppression, such as sprinklers, water mist systems and fire alarm and evacuation alarm systems. As a rule, 'passive' fire safety solutions such as fire doors, window frames, grids and other construction materials that help prevent fire spread through a building are less well known.
"But certainly no less important," suggested Hans Nijssen, director of Gerco and Applicom. These two sister companies, market leaders in the field of passive fire protection, were acquired by Unica in 2021. Both companies were absorbed into the Unica Fire Safety cluster. "We hope that by joining Unica we can further raise awareness of our specialisation," explained Hans. "By combining active and passive fire safety, we can now offer our customers an integrated total solution for fire safe buildings.
Fire safety in good order
Gerco and Applicom, based in Schoonhoven and Nijmegen, respectively, started independently of each other in the nineteen sixties, as pioneers in passive fire safety. In 2014, the companies joined forces, but continued to operate under their own labels. Both have been part of Unica since 2021. "The greatest strength of Gerco and Applicom? Undoubtedly our specific knowledge of legislation and regulations," explained Director Hans Nijssen. "Following a series of major fires with fatalities - for example the fire in the bar in Volendam on New Year's Eve 2001, the Schiphol fire in 2005 and more recently the fire in a residential tower block in London in 2017 - legislation and regulations on fire safety have become ever stricter," he continued. "Buildings are checked for fire safety more regularly and building owners must be able to demonstrate that a building is fire safe and satisfies all the safety requirements. Compliance calls for very precise knowledge and a great deal of bureaucracy because, for obvious reasons, you can't test in practice whether fire safety is in good order."
Gerco and Applicom
Gerco and Applicom are the Dutch market leaders in the niche market for passive fire safety. Hans continued, "We understand everything our customers need to do to be and to remain 'compliant'. We also have a large field service that means we are able to install many fire safety solutions ourselves. We have a solid customer base including (semi) government institutions, hospitals, care institutions, housing associations, industrial companies, and system installation specialists and building contractors."
Another unique selling point for Gerco and Applicom is the high level of digitalisation at the companies. "We have developed a whole package of tools to digitalise our service provision," said Hans. "Logbooks, inspections, certification, reports on work planned and completed; everything is fully automated. We guarantee the documentary evidence our clients need as well as possible." By using QR codes and an app developed in-house, service engineers always have access to the relevant information for the solutions they are working on while out in the field. Hans went on, "I am proud that we are miles ahead in this area. We are a major player and have sufficient resources to continue coming up with new innovations."
Integrated total solution
The next logical question then is: why a takeover? Hans was able to clearly summarise the main reason, "Future prospects. We wanted to secure the continuity of our organisation in the long term. We also recognised that a growing number of our customers are looking for an integrated total solution for fire-safe buildings. To acquire a market-leading position in that particular sector - and that is what we want - you need to be able to deliver all the fire safety solutions for optimum customer service yourself. Unica is a major player in active fire safety and we are solid in passive fire safety. In that sense, Unica offers us huge strategic value. We understand each other, speak the same language and both bring something to the table."
Unica Fire Safety
Hans is convinced that cooperation within the Unica Fire Safety cluster will strengthen all the companies. "We are typical freebooters, down to earth, hands on and quick thinking, with a common approach to both our customers and workforce. It is important that Unica recognises these qualities. At the same time, Unica can help us further professionalise, in terms of HRM, PR and the automation of the office environment."
Also in terms of customer base, Hans sees opportunities for synergy. "Unica are solid players in the food industry, a sector in which we are underrepresented. For our part, we serve a number of housing associations, an attractive market for Unica. With our combined, integrated total solution for fire-safe buildings, we can all look forward to tackling new markets."
'We understand each other, speak the same language and both bring something to the table'
Winning team
In Hans' opinion, the collaboration between Gerco and Applicom and Unica Fire Safety was a natural process. "We were both already working for the Defence organisation, and will now take on those orders together. For example, we are responsible for the complete fire safety of the listed buildings of the Royal Netherlands Navy's training institute in Den Helder. Unica Fire Safety will be installing a modern water mist and fire alarm installation. Gerco will be responsible for the design, the relevant permits, project management and the structural fire safety measures. Hopefully now and in the future, we will have more opportunities to deliver even greater 'body' when it comes to tenders and orders for the Defence organisation, datacenters and other customers. For 2022, we aim to increase revenue by 10% through cross-selling our services via the Unica sales channels. We are also currently developing combined maintenance contracts. Together we are a winning team on the Dutch fire safety market."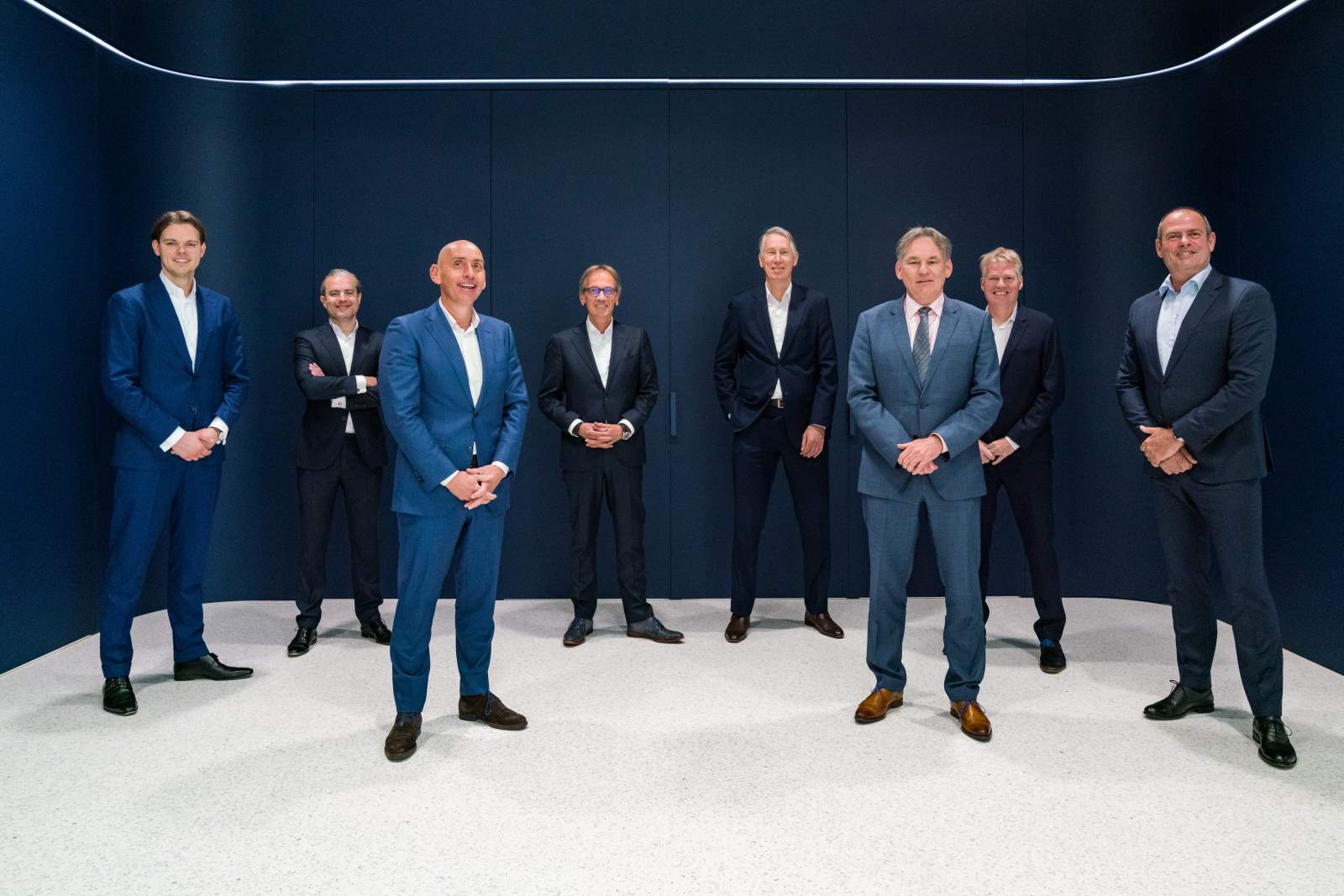 Group photograph following the signing of the contract. In the foreground Tom Verschoor, Director of Unica Fire Safety (left) and Hans Nijssen, Director of Gerco and Applicom (right).