Marc Mulder, algemeendirecteur van Pranger-Rosier:
'Unica and Pranger-Rosier have a great deal to offer each other'
The Friesland-based all-round installation service organisation Pranger-Rosier has been part of Unica since May 2021. The integration of the large, independently operating installation company in the Northern Netherlands in the Unica Building Services cluster represents the largest acquisition in the company's history.
"We were approached by Unica at the end of 2020," reflected Marc Mulder, managing director of Pranger-Rosier. "In the management we immediately saw huge advantages, and fortunately our two shareholders, the Pranger and Rosier families, saw them too. The vision and corporate culture at Unica are very similar to our own, and we complement each other perfectly in terms of knowledge, quality, IT, services and projects."
When Yde Pranger and Jaap Rosier, both from Dokkum, started supplying single-pipe central heating systems in 1967, the company Pranger-Rosier was born. More than fifty years later, following a series of growth surges and regional acquisitions, the Friesian company has grown to be an all-round installation service provider with a staff of 250, and four branches in Dokkum, Leeuwarden and Sneek. More than anything else, Pranger-Rosier is a household name in the Northern Netherlands, that also includes installation service Otte and renewable energy partner Equu.
Nationwide coverage
The acquisition of Pranger-Rosier reinforces Unica's position in the Northern Netherlands, and marks the next step towards nationwide coverage. Above all in the fields of technical management and maintenance, Unica wishes to further expand its activities, and sees plenty of opportunities for growth in the northern provinces. "In the past, with offices in Groningen and Emmen, Unica was occasionally in competition with us for orders, but over the past few years, there has been little contact," continued Marc. In his opinion, it is difficult for companies from outside the region to acquire a solid foothold in the Northern Netherlands. "They often lack the local touch with the clients. How come? You would have to be a northerner to be able to answer that question," replied Marc with a grin. "We have a sober, hands-on mentality and a culture of our very own. Like tends to seek like."
Technical service provider
The management team and the two shareholders - the Pranger and Rosier families - nonetheless entered into negotiations with Unica, with an open mind, when the company expressed a desire to acquire their business at the end of 2020. "Unica may not originate in the north, but there are still similarities," explained Marc. "First and foremost, of course, both Unica and Pranger-Rosier are large, independent technical service providers. Secondly, we both share the same market vision, a fact reflected in that we are both focused on services and projects, and we both work to ensure customer satisfaction," suggested Marc. "Finally, we are both traditionally family-run businesses, and as a result have very similar company cultures. We share the same family DNA, and that makes for easy conversations."
Name awareness
According to Marc, time was another key factor in the acquisition. "Neither the Pranger or Rosier families have a successor and as such both were on the lookout for a different way to secure the future of their business. But the solution had to cover the whole package," continued Marc. "We wanted to keep the group and the people all together; without disposing of any of the businesses or the workforce. Another important point was our desire to keep our freedom of action. We have excellent name awareness in the region, and our identity is really important for employees who have worked for a family business for years."
That family loyalty works both ways. As Marc went on, "Our management recognises the importance of offering our people the opportunity to develop and grow. And offering our customers a broader range of services so that we as a company can continue to achieve steady growth."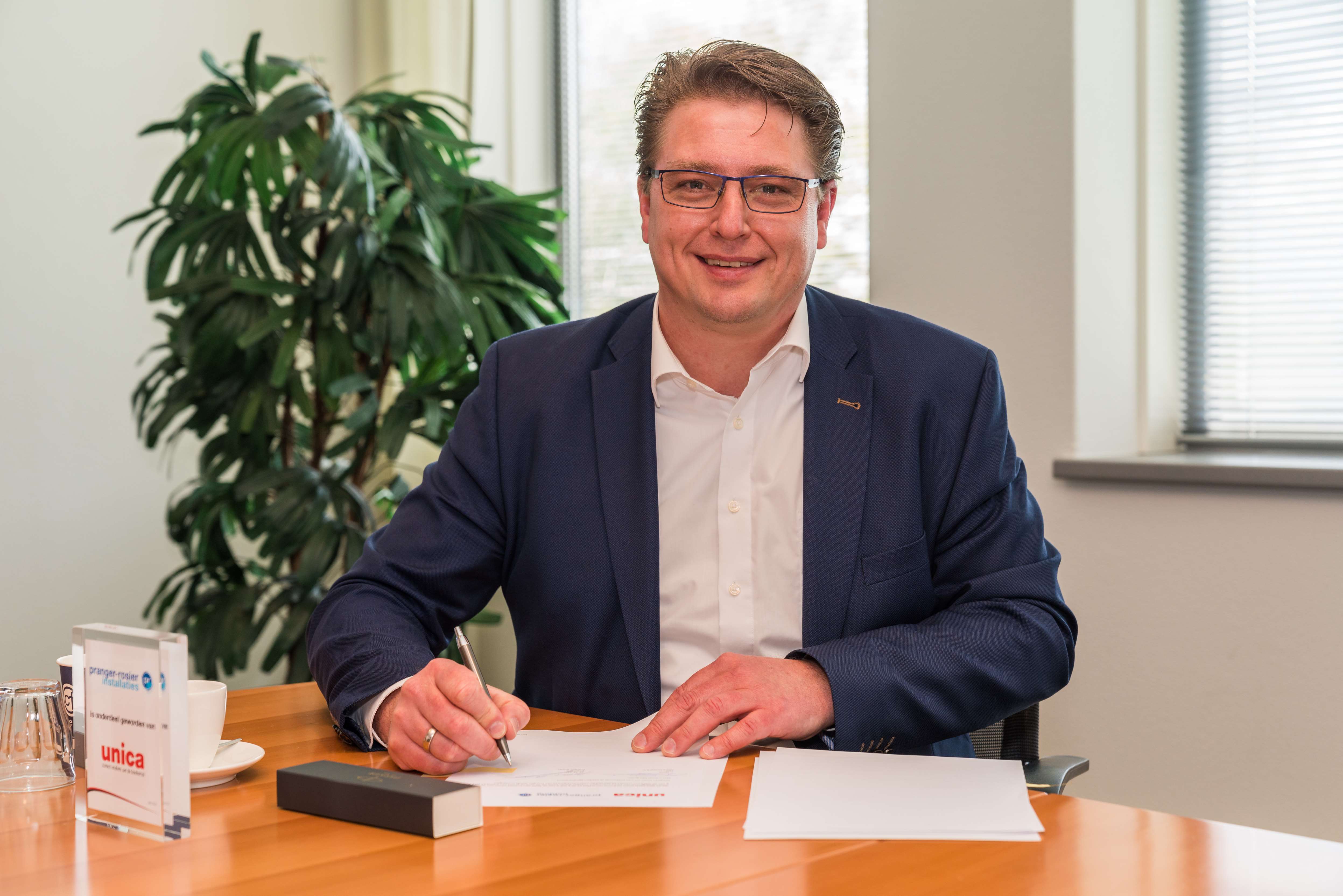 'Buildings involve more and more technology, projects are becoming more complex and all-round workers are turning into specialists'
Unica Building Services
When it became clear that Unica encourages entrepreneurial spirit in all its companies, and that it was also willing to accept the other conditions, the situation at the negotiation table soon relaxed. "It was pleasant to come face to face with the management of Unica, rather than negotiating with a team of administrators, who you would never see again," added Marc. "It felt right straight away, and the takeover was completed quickly and hassle-free. The deal was done in less than six months."
The Pranger and Rosier families sold their shares in the holding in May 2021. Since that time, the whole of Pranger-Rosier has been integrated in the specialist Unica Building Services cluster. "It feels a bit weird, because as well as services and projects, we also have a house building division. But everything seems to be running smoothly and the Unica offices work together seamlessly."
Cooperation
"We have joined forces with our new Unica colleagues on the renovation of the town hall in the old navy dock in Den Helder. We also hope to develop shared opportunities with Unica Fire Safety," continued Marc, who recognises the vital importance of cooperation in the modern world of business. "Buildings involve more and more technology, projects are becoming more complex and all-round workers are turning into specialists. Even for large companies, it is becoming increasingly difficult to maintain a team of in-house specialists. Working together is a way of becoming stronger."
Marc explained, "Unica is interested in the way in which, despite our relatively small size, we have achieved excellent lean & mean results. We are also frontrunners in IT applications for contracts, planning and reporting. We are delighted with the overall support and look forward to learning from Unica about sustainability issues, and the integration of IT in building-related engineering applications. We have a great deal to offer each other, and we have only just started."