In addition to organic growth, Unica also fulfilled its growth objectives thanks to some targeted acquisitions. In 2020, Unica added three companies to its network.
Numan & Kant was acquired in early March 2020. As a product-independent provider of solutions for measurement and control technology, Numan & Kant delivers turnkey solutions for climate system projects in buildings. This acquisition strengthened Unica's position in building intelligence; knowledge, capacity and regional presence all benefited. For example, Numan & Kant is strongly represented in the south-west of the Netherlands, an area where Unica previously had no operating base for its building intelligence activities. The acquired company serves a number of leading clients in healthcare, higher education, high-quality real estate and research. Numan & Kant is now part of the Unica Building Intelligence cluster, alongside the companies Unica Building Automation and Regel Partners. Together, these companies provide automation, data analysis and Internet of Things (IoT) solutions throughout the Netherlands.
In mid-March 2020, Unica acquired PCT Koudetechniek. In December 2020, Van Kempen Koudetechniek was added to the network of companies. This led to refrigeration technology, a relatively new area of expertise for Unica, becoming a fully-fledged component of the portfolio. Refrigeration technology is an increasingly important expertise, also in technological developments in combined heating and cooling technology. For example, cooling in data centres, air conditioning in laboratories and operating theatres, and standard air conditioning in buildings.
With the acquisitions of PCT and Van Kempen, leading Dutch refrigeration players with a wide range of customers and excellent reputations, Unica reinforced its position. Both companies serve various sectors of the food industry, varying from food processing to transport and retail. The combination of stricter legislation and regulations, growing international food transhipment and more extreme weather have made refrigeration technology an essential part of the business processes in the food industry. PCT and Van Kempen are part of the Unica Industry Solutions cluster. All expertise in industrial technical solutions is bundled within this business cluster. Refrigeration technology is a powerful addition to the expertise of Unica Industry Solutions. The latter uses its expertise in industrial automation, process technology, mechanical engineering and hardware engineering to provide turnkey solutions for the industrial sector. This cluster had already been strengthened with industrial automation expertise as a result of the acquisitions of Pro-Fa Automation (2017) and Brainpact (2019). The acquisitions in this domain underline the importance that Unica attributes to industrial services, a priority of its strategy.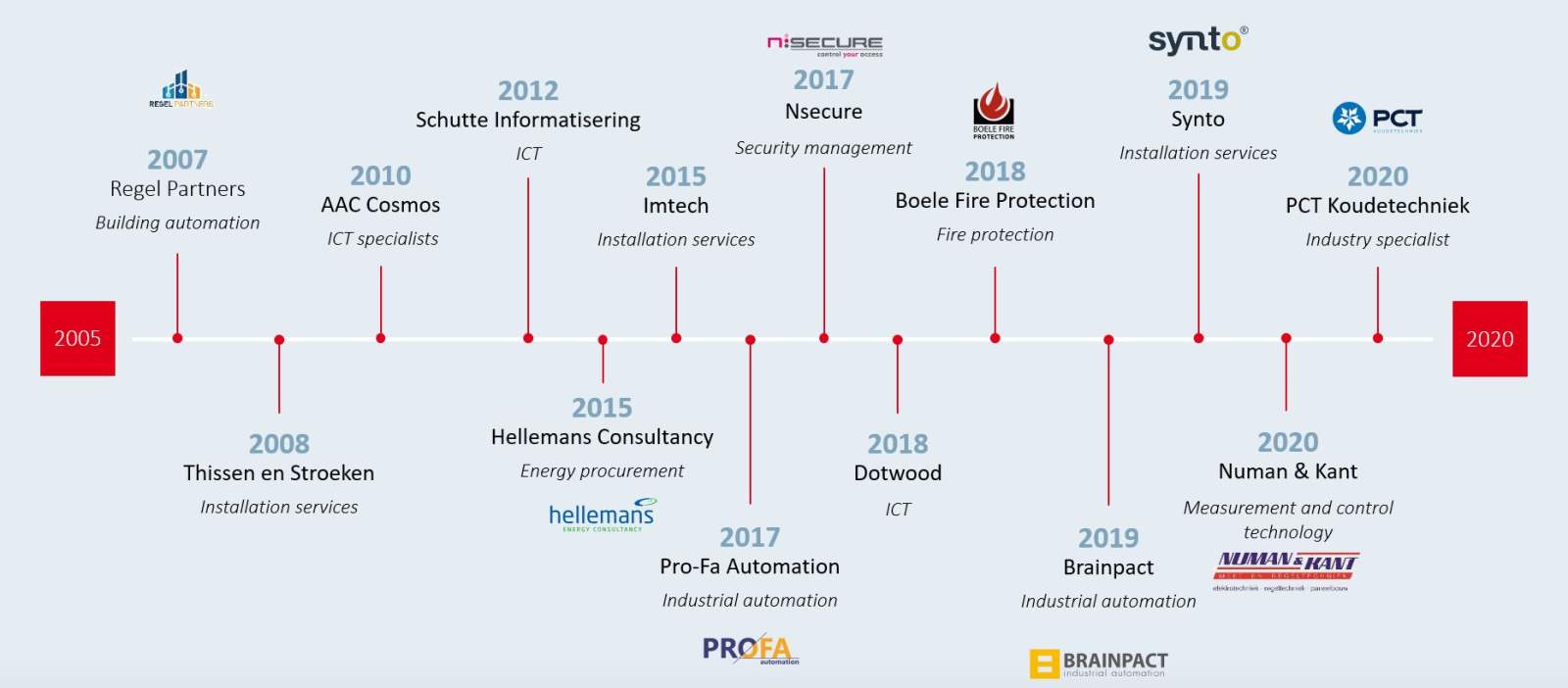 Unica's Mergers & Acquisitions (M&A) agenda is ambitious, with several acquisitions expected in the next few years. Unica's foundation and organisational model offers space to include several companies in its network every year. The nine business clusters within Unica each have an M&A component in their strategy, in addition to organic growth. Each cluster operates in a different competitive field, so Unica's acquisition needs are very diverse. Each cluster focuses on targeted acquisitions to strengthen their specialism or expand their regional presence. Further strengthening of digital competences as part of the services is given particular attention here.