Unica operates an ambitious Mergers & Acquisitions agenda, aimed at strengthening its network through the targeted acquisition of solidly performing companies. Unica's acquisition strategy is focused primarily on realising commercial synergetic advantages as a way of offering local customers a more complete range of services. The current acquisitions agenda is focused on expanding the regional presence and reinforcing the company's specialisations. In both areas, Unica expanded its company network in 2021.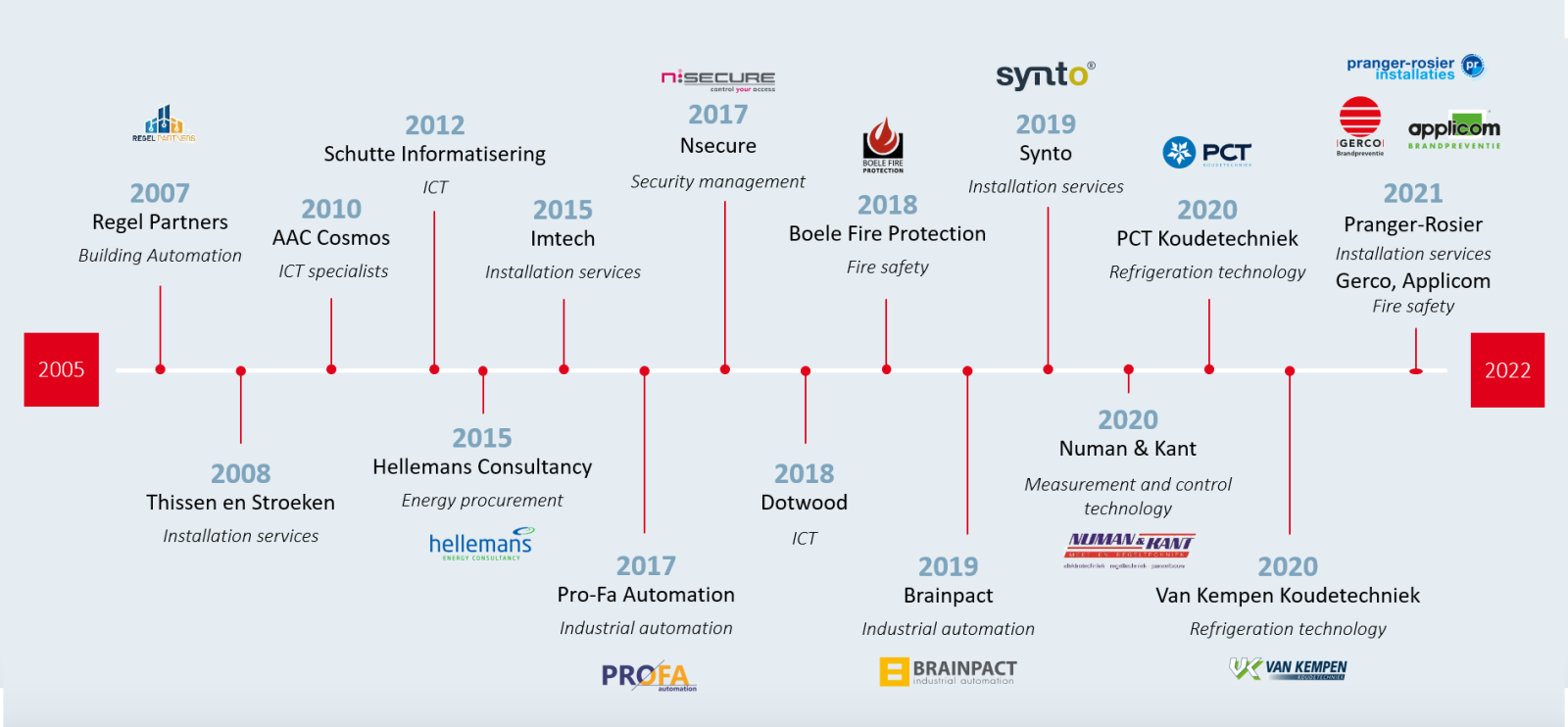 In May 2021, Unica announced the acquisition of Pranger-Rosier, a market-leading technical systems supplier in the Northern Netherlands, with branches in Dokkum, Leeuwarden and Sneek. This acquisition has reinforced Unica's regional position in this region, where previously it was restricted to locations in Groningen and Emmen. Thanks to this acquisition, Unica now has access to a new customer base in Friesland and other parts of the Northern Netherlands, where the group will expand its activities, in particular in the field of technical management and maintenance. The acquisition of Pranger-Rosier, with its workforce of 250, is the largest acquisition ever in the history of Unica. Following the takeover, Pranger-Rosier and its three branches were integrated in the branch network of Unica Building Services, expanding the nationwide coverage to 17 locations.
The acquisition of Gerco and Applicom was also announced later in May 2021. Their fire safety solutions are installed in more than 30,000 buildings, and together the two companies are market leaders in the field of passive fire safety. Gerco and Applicom have also contributed new innovative capacity to the Unica Groep, thanks to the high level of digitalisation in their service provision. Unica Fire Safety already offered a broad product and service portfolio in the field of active fire safety. As a result of the acquisition, the cluster is now also able to offer passive fire safety solutions that make it possible to deliver all-round solutions for fire-safe buildings. Gerco and Applicom together employ a staff of 165.
In the field of ICT, too, Unica strengthened its position in 2021 through an acquisition. The takeover of In2Scope, specialists in Microsoft Dynamics, was announced in October. With the Microsoft Dynamics suite of software solutions for Customer Relationship Management (CRM), Enterprise Resource Management (ERP) and Field Services, organisations can undertake the integrated organisation and analysis of business processes. In2Scope is mainly active in the field of Finance & Operations and has been integrated in the Unica ICT Solutions cluster. ICT Solutions already has considerable expertise in Dynamics and thanks to this addition is able to more easily deliver integrated implementation of Microsoft Dynamics for its clients.